Jumtarps is a Chinese manufacturer of lumber tarps, the real source of manufacturers, cheap and high quality
Weather you are looking for a lumber, steel or custom tarp they are all made with similar components. In most cases we manufacture trucking tarps out of the 18oz vinyl coated fabric but weights range from 10oz-40oz. The vinyl panels are hot air welded together to create a strong bond for the proper size tarp to cover your load. We reinforce the hem of the tarp with 2 inch webbing this helps prevent the ends of the tarp from being damaged when faced with high freeway winds also allowing structural support when securing the tarp to your trailer. We have been in the industry for a long time and we know that not everything you haul will be the same size. We construct our steel and lumber tarps with multiple trucking-tarp places to connect rope or rubber straps to and we offers options to meet your preferences. Our D-rings are made of Stainless steel they are sewn to high strength webbing tabs and then inserted and double stitched under the high-line webbing to ensure an extremely strong anchor point on the tarp. Another option common in the industry is grommets we offer 3/8"and 1/2"brass grommets. The clean brass grommets are inserted into the tarp using a hydraulic grommet press and reinforced and backed by a double layer vinyl tab finishing with a total of four layers of vinyl offering great durability.
Lumber Tarp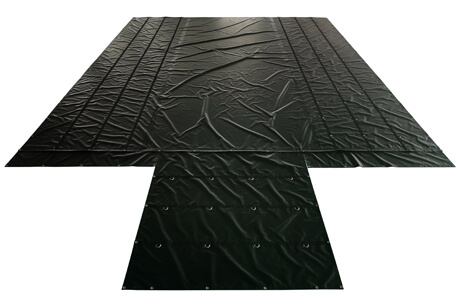 Lumber tarp are, by far, the most popular flatbed truck tarps and truckers and haulers,keeping your load protected and trust your lumber will arrive at its destination undamaged.Lumber tarps are best suited for long, tall load such as stacked wood, wallboard, and other products that can be damaged by rain, UV rays, or road debris.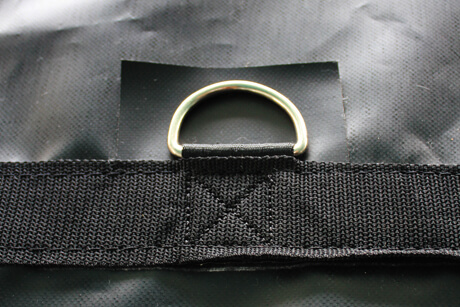 Lumber tarps are designed with a flap at the end to cover the ends of lumber on a flatbed truck.Detailed craftsmanship ensures that these sturdy tarps stand up to the elements, punctures, wear, tear, and tough environments. Whether it is lumber, refuge, steel, heavy equipment, or temperature-sensitive asphalt.These are made with versatile, strong, and easy to handle materials including 18-ounce vinyl coated fabric available in standard and custom sizes for any trucking requirement including flatbeds, coil trailers, transfer trailers, dump trucks, and roll-offs.The heat-sealed vinyl seams and double lock-stitched hems deliver sturdiness, versatility, and resilience.The sides and flap are fitted with three rows of D-rings to make fast and secure connections using rubber tarp straps, rubber rope, and s-hooks.Each D-ring has an abrasion-resistant pad underneath to protect the tarp and keep it in excellent working condition.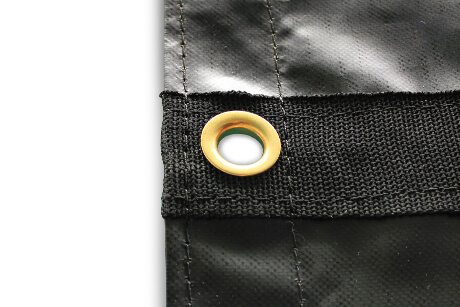 The raw material of lumber tarp is pvc tarpaulin. High tenacity Industries yarn coated with pvc Resin to reach various colors, embossed patterns and prints. Various Additives case different tarpaulin material to meet specific industry applications.
Below are basic feature for tarpaulin:
1) High tensile strength and adhesion
2) Fire retardant; tear-resistant
3) Anti-fungus treatment
4) Anti-abrasive property
5) UV treated
6) Water-sealed and air tight
7) Antifreeze and corrosion-resistant
Below are basic usage for tarpaulin:
1) Make sunshade and protection awning
2) Truck tarpaulin,side curtain and train tarpaulin
3) Best building and stadium top cover material
4) Make lining and cover of camping tents
5) Make swimming pool, airbed,inflate boats
Lumber Tarp
WEAR RESISTANT,HIGH
STRENGTH POLYESTER YARN
Base fabric is made of high-strength
polyester fiber with high-density weaving.
Passed various testing requirements,Super durable.
DOUBLE-SIDE PVC COATED
WITH FLAME RETARDANT
Added with flame retardants
and smoke suppressor.
DOUBLE-SIDE
WATERPROOF COATING
Waterproof coating
Meeting water can instantly gather water droplets
Water can be stored as a pool.
ACID, CORROSION
AND OIL RESISTANCE
Sturdy material.
Anti-mildew.
Able to cope with severe weather and harsh environment.
TECHNICAL DETAILS REFLECT
HIGH STANDARDS EVERYWHERE
High Frequency Welding.
Uses a variety of wrapping technology.
Color and tension are strictly monitored.