PVC tarpaulin is a high strength polyester canvas as the base cloth, coated polyvinyl chloride (PVC) paste resin with growth agent (synthetic plant ester), anti-mildew agent, anti-aging agent, antistatic agent and other chemical additives, through high temperature plasticization. Waterproof, mildew resistant, cold resistant, aging resistant, anti-static and other properties; And the breaking strength, tear elongation, tear strength is much better than traditional tarpaulin. Its wide range of use, the use of strength, color diversity, the surface of the special treatment to play the role of anti-skid, is an international popular waterproof fabric, and the width is very large, up to 2 meters wide, the use of available thermal joint splicing, without sewing pinhole leakage worry, is the mainstream products in the modern tarpaulin market.
Drop stitch fabric construction is what allows an inflatable SUP to maintain its shape when it is inflated to high pressure. Without drop-stitch, the board would bulge out in the middle like an over-inflated air mattress. Using tens of thousands of tough polyester threads, drop stitch fabric lets us build inflatables with flat surfaces that can be inflated to rock-hard rigidity. You get hard-shell performance along with the easy transportation and storage of an inflatable. Drop stitch fabric SUP boards use the toughest drop-stitch materials in the industry. Sidewalls use two PVC layers specifically manufactured for superior air holding. Unlike typical PVC tarpaulin, the specialized sidewall material features internal fibers coated in liquid PVC before incorporation with the outer PVC layer, making the layers more durable and resilient than ever before.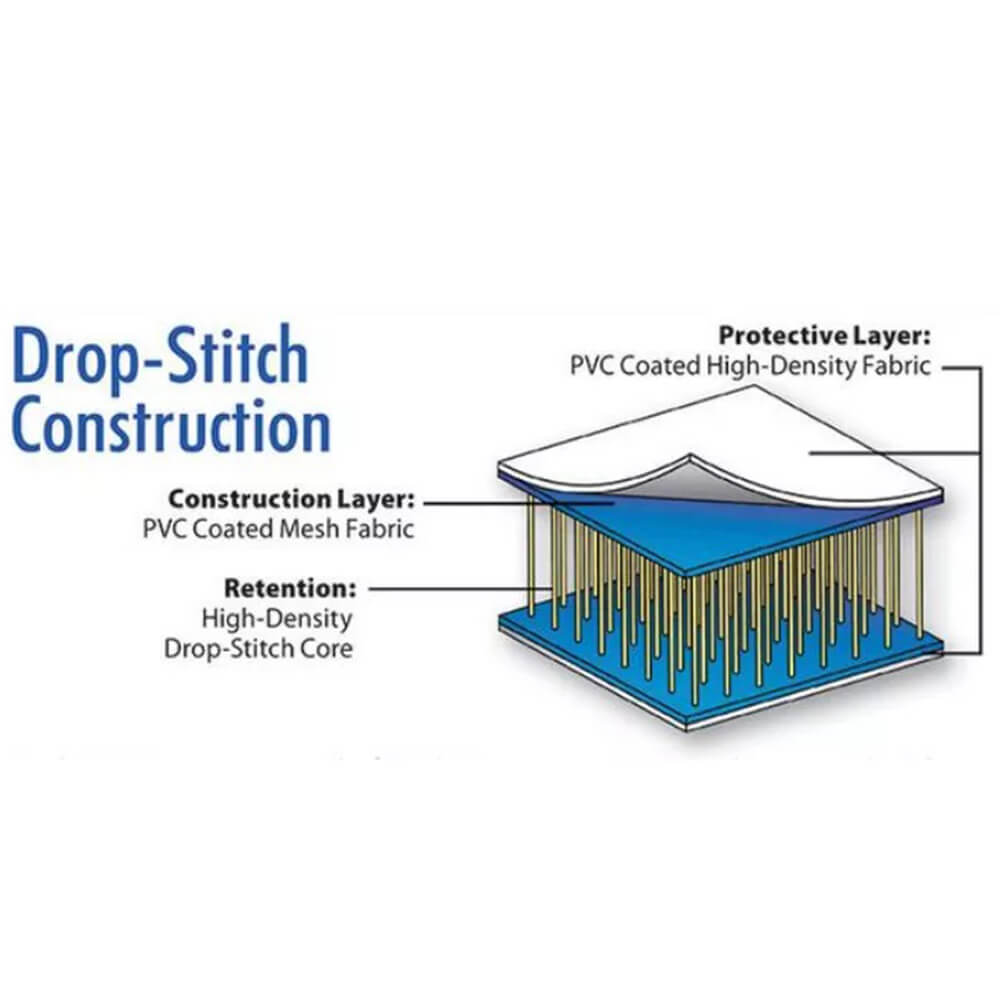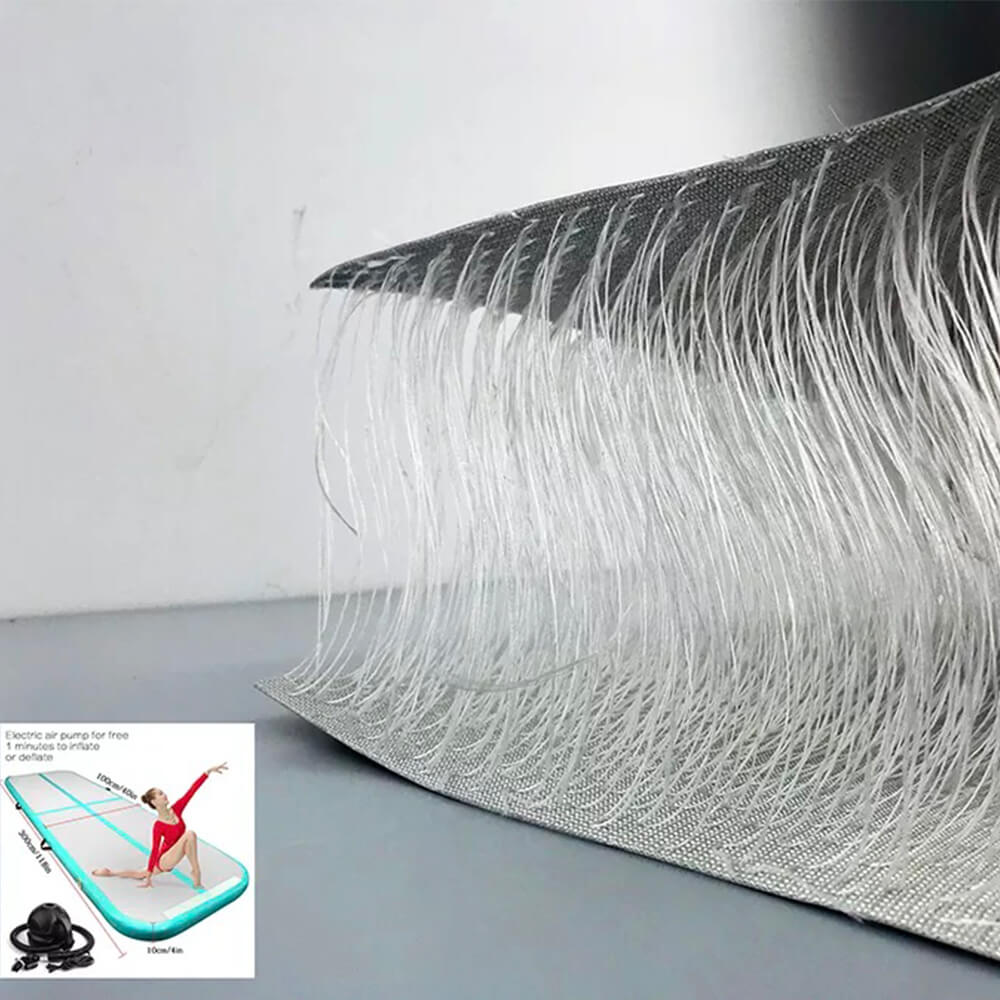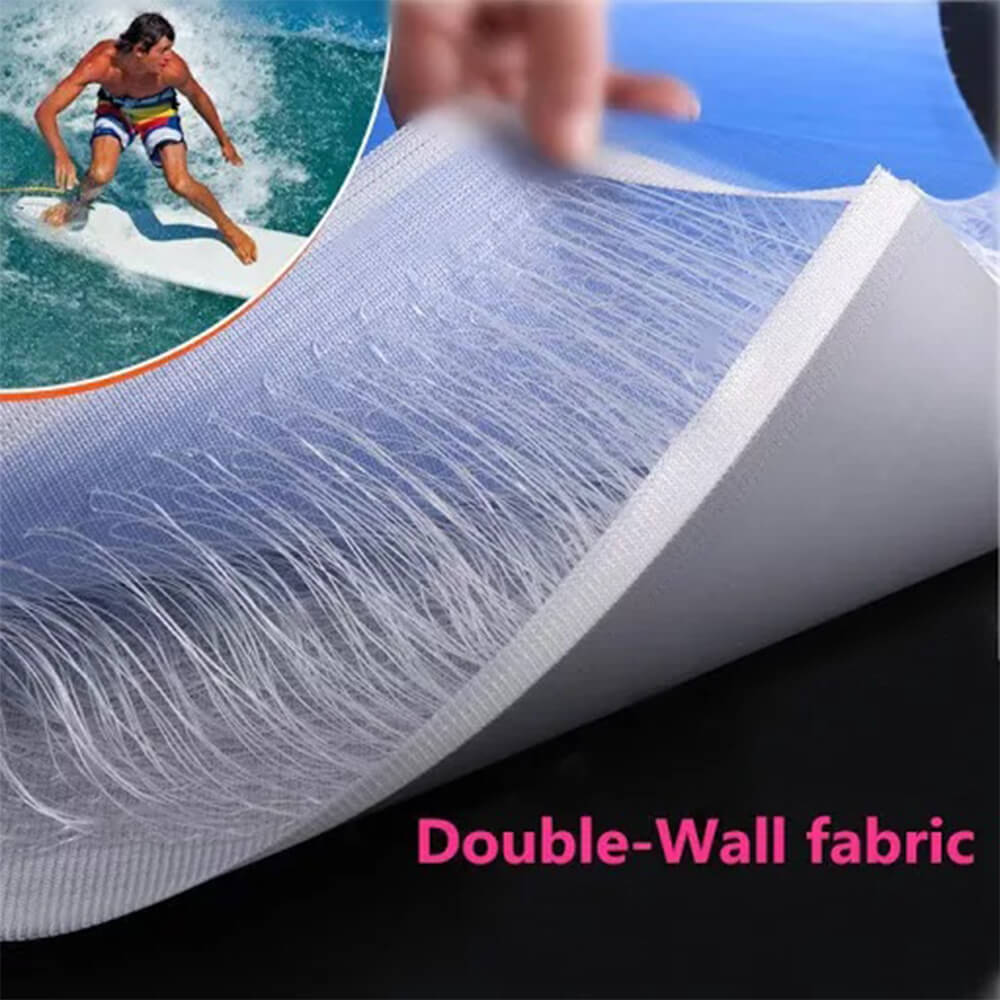 | | |
| --- | --- |
| Base fabric | Polyester 500D( High tensile) |
| Coating | PVC |
| Pattern | Coated, dot, wave, in-line |
| Weight | 2400gsm-3300gsm |
| Spacer | 200px, 250px, 375px, 500px |
| Accessories | gule , Repair material, CE/UL certificated pump |
| Common Width | 0.9-2.6m up to 3.2m |
| Application | Inflatable boat bottom ,Air mat,Sports,entertainment, Swimming Pool,high pressure air floor etc. |
| Features | Waterproof, Fire Retardant, Anti UV, Heavy Metal Free, Anti Mildew, Flexible, Heavy Duty, Tensile, Self Clean etc are available. |
This product can be used for inflatable boat bottom, SUP board, surfboard, car cushion, ski mattress, gymnastic mattress,inflatable water yoga mat, inflating taekwondo mat, all kinds of original outdoor articles, outdoor camping mattress.