Flatbed Truck Tarps Product Series---Lumber tarps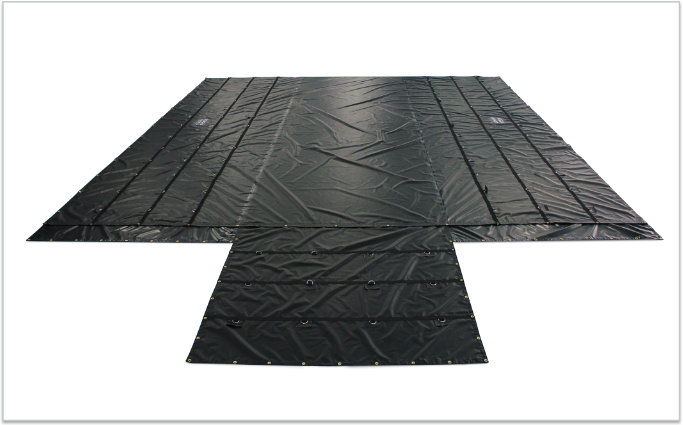 Whether you are looking for a lumber, steel or custom tarp they are all made with similar components. In most cases we manufacture trucking tarps out of the 18oz vinyl coated fabric with weights ranging from 10 oz-18 oz. The vinyl panels are hot-air welded together to create a strong bond for the proper size tarp to cover your load. We reinforce the hem of the tarp with two-inch webbing. This helps prevent the ends of the tarp from being damaged when facing high freeway winds, also allowing structural support when securing the tarp to your trailer. We have been in the industry for a long time and we know that not everything you haul will be of the same size. We construct our steel and lumber tarps with multiple trucking-tarp places to connect rope or rubber straps to and we offer options to meet your preferences. Our D-rings are made of Stainless steel, sewn to high strength webbing tabs and then inserted and double stitched under the high-line webbing to ensure an extremely strong anchor point on the tarp. Another option common in the industry is grommets we offer 3/8"and 1/2" brass grommets. The clean brass grommets are inserted into the tarp using a hydraulic grommet press and reinforced and backed by a double layer vinyl tab finishing with a total of four layers of vinyl offering great durability.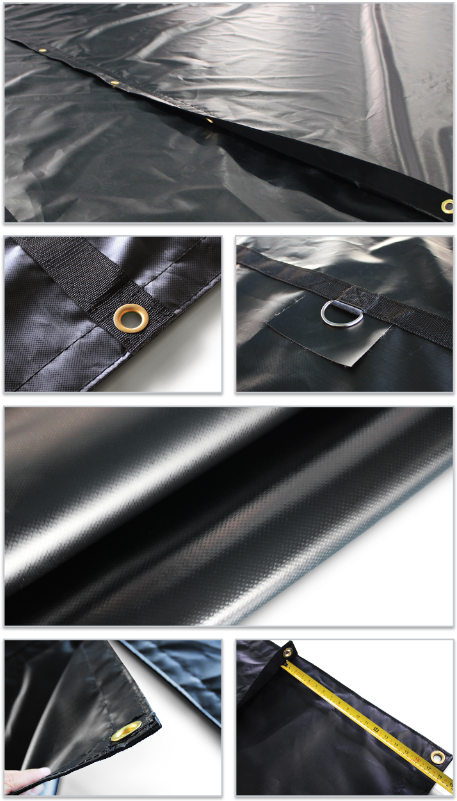 Features of Lumber Tarps
1.Wear-resistant,high-strength polyester yarn
Base fabric is made of high-strength polyester fiber with high-density weaving.Passed various testing
requirements,super durable.
2.Double-sided PVC coated with flame retardant
Added with flame retardants and smoke suppressor.
3.Double-sided waterproof coating
Waterproof coating.meeting water can instantly gather water droplets.
water can be stored as a pool.
4.Acid corrosion and oil resistance
Sturdy material.anti-mildew.able to cope with severe weather and harsh environment.

5.Technical details reflect high standards everywhere
High frequency welding. Uses a variety of wrapping technology. Color and tension are strictly monitored.


Lumber tarp data sheet
Dimensions

Metric system

English system

Weight

13.6kg-60kg

30-130 (Lbs)

Tarp Width

488cm/610cm/732cm/853cm

16 ft./20 ft./24 ft./28 ft.

Tarp Length

549cm/610cm/823cm/853/914cm

18 ft./20 ft./27 ft./28 ft./30 ft.

Product Color

Black/Red/Other

Drop Height

122cm/183cm/244cm/305cm

4 ft./6 ft./8 ft./10 ft.

Material

340g/m²︱475g/m²︱610 g/m²

10oz/yd²︱14oz/yd²︱18oz/yd²

Flaps

One Flap

Rows of D-Rings

2-5

Grommets

9.525mm and 32mm

3/8"and 1/2"brass grommets

Grommet Spacing

60.96cm

2 ft.

Cold Crack

-30℃
Benefits
◆ Anti-UV, tear and abrasion resistant
◆ Resistant to weather elements including snow, rain, hail, strong gusts of wind
◆ Ensure that heavy cargo does not fall onto the road when loose or unsecured
◆ Containing and securing loads, truck tarps can also be used as truck sides and roof covers.
◆ Truck tarps reduce the dragging effect on the vehicle. Therefore, you can easily increase the miles per gallon you get
because the movement of air is more streamlined.
◆ Truck tarps are reusable, easy to deploy, easy fold and store away
Applications
◆ Recommended for tree hauling, agricultural, mining and industrial applications, and other severe applications. Besides
containing and securing loads, truck tarps can also be used as truck sides and roof covers
Precautions
◆ Avoid sharp objects
◆ Avoid getting oily
◆ Make sure cargo is evenly covered on both the sides with the tarp
Standard Weight


Standard Color Other Material

---
Thanks for reading