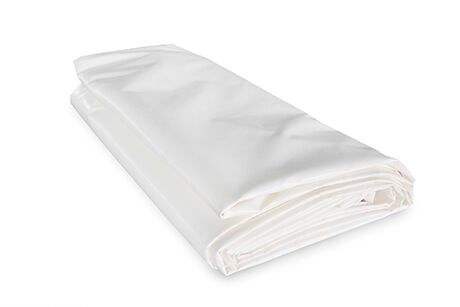 There are many tarp sizes, the usual sizes are: 10'x 12'-12'x 20'-12'x 30'-14'x 20'-18'x 20'-20'x 20'-22'x 20 '-20' x 30'-20' x 40' and so on, tarp weights are 10oz, 12oz, 14oz, 18oz, 22oz, 26oz grams and so on.
PVC tarpaulin is a kind of tarp, generally divided into polyethylene tarpaulin and polypropylene tarpaulin.
Polyethylene tarpaulin has bright colors, good flexibility, and long service life, but it is slightly more expensive and suitable for long-term use.
Polypropylene tarpaulin has a slightly darker color and poor flexibility, but it is cost-effective and suitable for temporary use.
Tensile strength index: warp strength≥2400N/5CM, weft strength≥2400N/5CM;
2. No water leakage, water pressure resistance value ≥2000MM water column;
3. Can withstand low temperature, cold-resistant temperature is -20℃
4. It can prevent mildew, and the anti-mold experiment is level one.
For more pvc fabric technical parameters, please click the link below