PVC Coated Fabrics are those made with polyester scrim and coated with PVC. They are the most popular coated fabrics for architectural applications.
  Architectural PVC coated fabrics are most commonly made with a liquid PVC coating on both sides of the scrim. This is done in a knife coating process.
  In many cases, a finishing topcoat is applied which provides better resistance against dirt by sealing off the plasticizers in the PVC, which otherwise migrate to the surface and make it sticky. Some finish coatings provide additional UV resistance which extends the life of the fabric, and some provide a surface that is dirt-repellent.
  These fabrics tend to be highly durable, often lasting for two decades. We use specialized equipment in our manufacturing which allows us to offer up to a 25-year pro-rated manufacturer warranty on the highest quality architectural fabrics.
  We offer a wide selection of PVC coated fabrics, we can't list them all on our site currently. If you have any questions in regards to what other fabrics we offer, please feel free to contact us.
Drop stitch fabric construction is what allows an inflatable SUP to maintain its shape when it is inflated to high pressure. Without drop-stitch, the board would bulge out in the middle like an over-inflated air mattress. Using tens of thousands of tough polyester threads, drop stitch fabric lets us build inflatables with flat surfaces that can be inflated to rock-hard rigidity. You get hard-shell performance along with the easy transportation and storage of an inflatable. Drop stitch fabric SUP boards use the toughest drop-stitch materials in the industry. Sidewalls use two PVC layers specifically manufactured for superior air holding. Unlike typical PVC tarpaulin, the specialized sidewall material features internal fibers coated in liquid PVC before incorporation with the outer PVC layer, making the layers more durable and resilient than ever before.
DWF(Double Wall Fabric), which it is with 3D hollow structure. By using 3D weaving technology, the two layers of base fabric are connected together with the pile yarns. Due to the different ways of the pile yarns, the surface shape can be a pattern like wavy (W shape), starr y, linear, and other surface shapes can be customized such as X shapes. Since each pile yarn thread has got the same length which define the maximum distance between the two base fabrics, DWF keeping of the desired shape of the hollow body - a dimensionally-stable surface, smooth and excellent flexibility.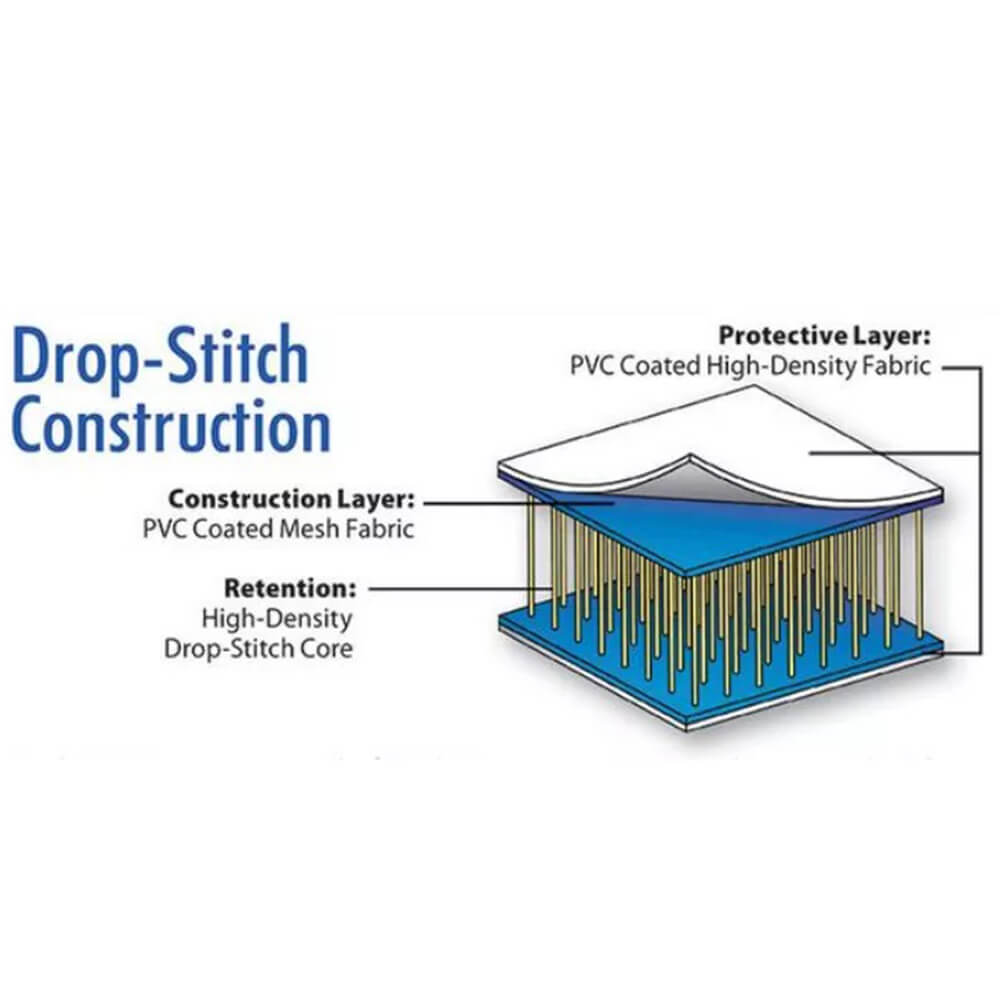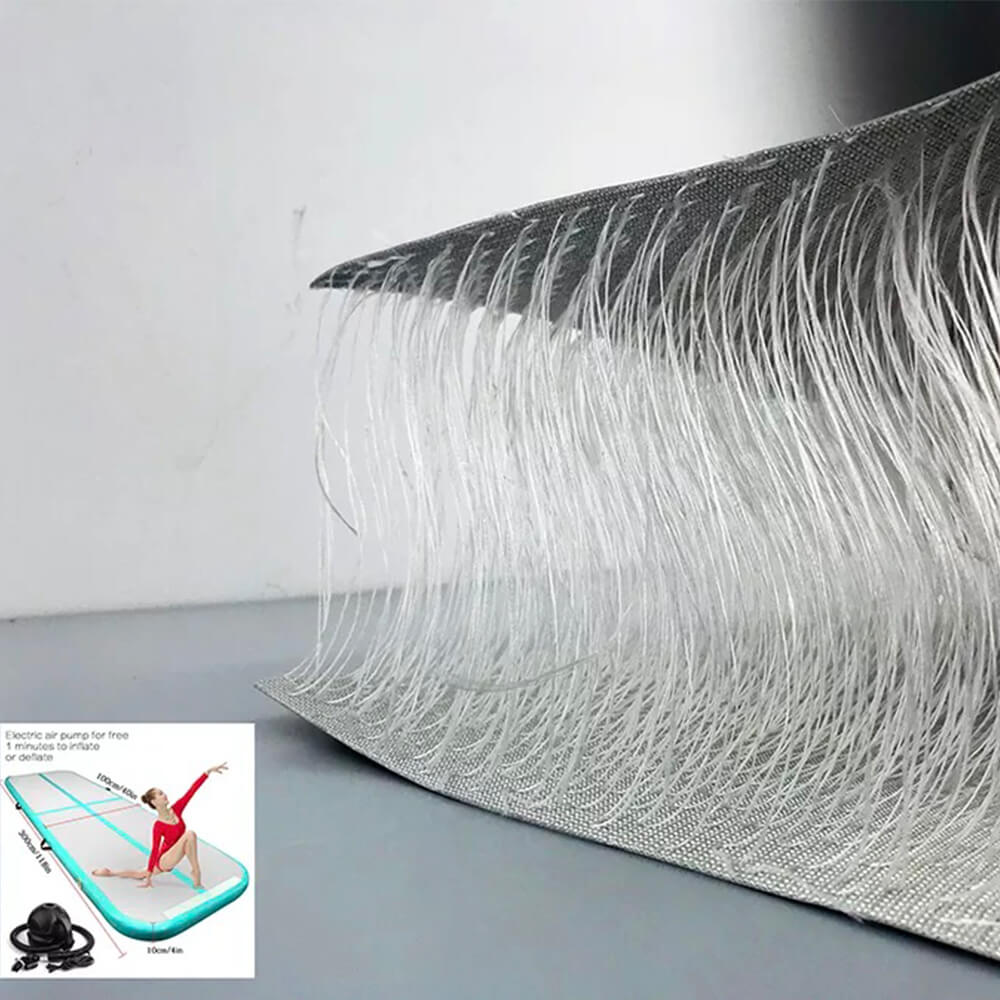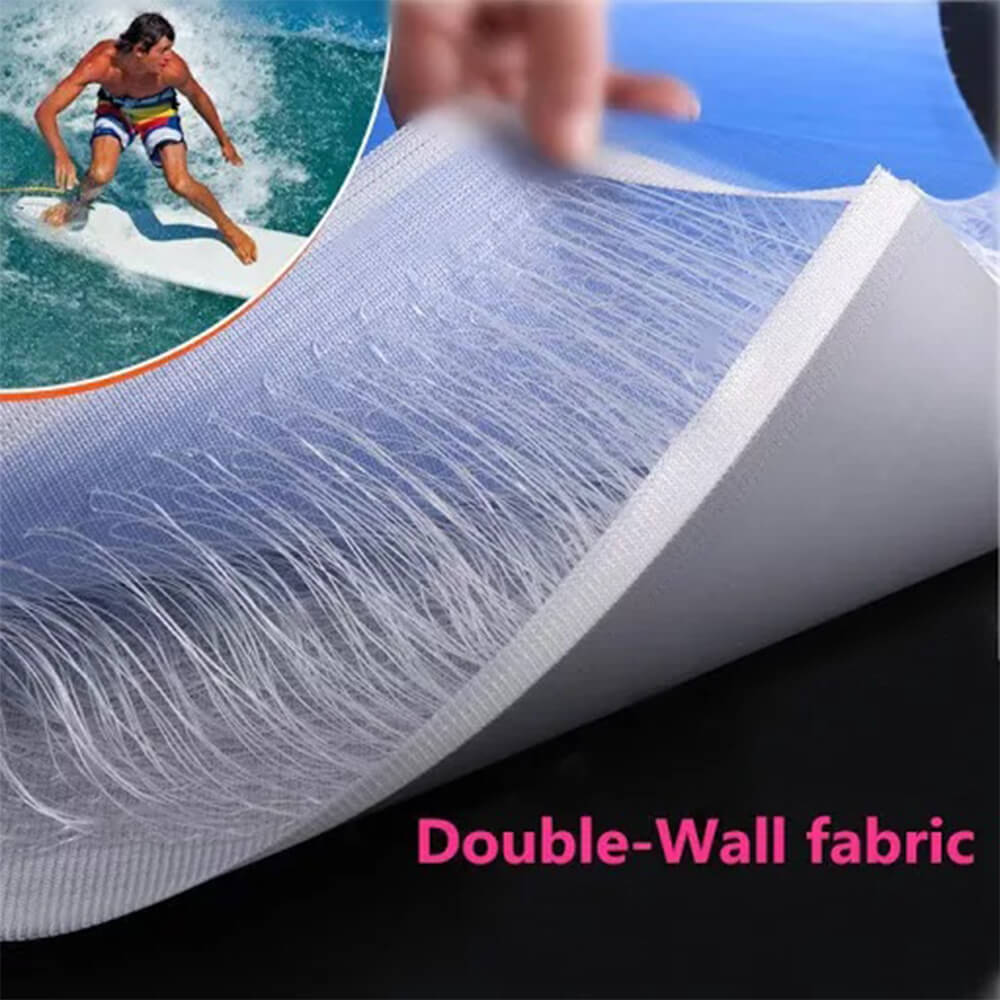 | | |
| --- | --- |
| Base fabric | Polyester 500D( High tensile) |
| Coating | PVC |
| Pattern | Coated, dot, wave, in-line |
| Weight | 2400gsm-3300gsm |
| Spacer | 200px, 250px, 375px, 500px |
| Accessories | gule , Repair material, CE/UL certificated pump |
| Common Width | 0.9-2.6m up to 3.2m |
| Application | Inflatable boat bottom ,Air mat,Sports,entertainment, Swimming Pool,high pressure air floor etc. |
| Features | Waterproof, Fire Retardant, Anti UV, Heavy Metal Free, Anti Mildew, Flexible, Heavy Duty, Tensile, Self Clean etc are available. |
Description

Items

Units

DWF80

DWF100

DWF150

DWF200

Finished products

Base fabric

D

500

500

500

500

Density

Inch*Inch

13*23

13*23

13*23

13*23

Design

Standard

Gypsophila(punctiform),Wavy(stripe),Linear

Colors

Standard

Light grey,white,blue,black

Thickness(for reference)

mm

2.4(±0.2)

2.5(±0.2)

2.8(±0.2)

3.0(±0.2)

Grammage of finished products

G/sqm

2400(±200)

2600(±200)

2900(±200)

3200(±200)

Width of finished products

mm

1550-1650(±10)

1550-1650(±10)

1550(±10)

1900(±10)

The length of package

m/roll

30

30

30

30

Tensile strength

N/5cm

MIN 1400*2000

MIN 1400*2000

MIN 1400*2000

MIN 1400*2000

Tear strength

N/5cm

500*600

500*600

500*600

500*600

Adhesive force of glue

N/5cm

180*180(±20)

180*180(±20)

180*180(±20)

180*180(±20)

Recommended inflation pressure

Psi

10

10

10

8

Maximum pressure

Psi

20

20

20

15
This product can be used for inflatable boat bottom, SUP board, surfboard, car cushion, ski mattress, gymnastic mattress,inflatable water yoga mat, inflating taekwondo mat, all kinds of original outdoor articles, outdoor camping mattress.